DOT Physicals
DOT Drug Testing USA provides DOT physicals at testing centers nationwide for commercial motor vehicle drivers who are required to take a DOT physical for employment or to renew a medical certificate. With over 5000 testing centers nationwide and with most locations within minutes of your home or office. DOT Drug Testing USA can schedule your DOT physical today!
To schedule a DOT physical call (800)579-8083, Same Day Service Available
The DOT physical examination conducted by a DOT approved medical examiner includes the following
| | |
| --- | --- |
| | |
| | |
| | |
| Prescription Medication Review | General Medical Condition |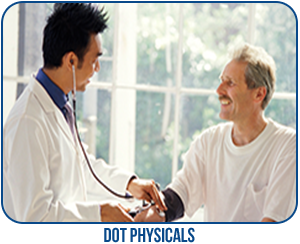 Upon completion of the DOT physical examination the qualified medical examiner will complete your DOT physical form and note any issues requiring monitoring or any health concerns which may adversely affect your ability to receive or renew your DOT medical certificate.
The DOT physical is a highly regulated process established to ensure the safety of our nation's highways and failing to hold a valid DOT medical certificate can result in significant fines and penalties.
When you arrive at the testing center for your DOT physical, please be prepared to provide a urine sample, have a list of any mediations you are currently taking, have your corrective lenses (glasses or contacts) and any information relating to your health history.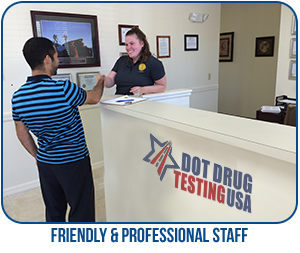 A DOT physical examination is valid for up to 24 months, however the medical examiner may also issue a medical certificate for less than the standard 24 months, if certain health conditions require future monitoring.
Upon passing a DOT physical the medical examiner will furnish 1 copy of the DOT physical results to the person who was examined and then complete the medical examiners certificate.
The DOT physical is an important part of the Department of Transportation's requirements for employees designated as "safety sensitive" and while commercial motor vehicle drivers (FMCSA) are primarily the persons in need of a DOT physical, DOT physicals may be required for other types of DOT regulated positions.
DOT Drug Testing USA can schedule your DOT physical and provide any assistance needed to receive your DOT required medical certificate. Call us today!
Become DOT Compliant Today!
DOT Drug Testing USA
(800)579-8083