On-Site / Mobile Drug Testing
We Come To You!, Land, Air or Sea, DOT Drug Testing USA provides on-site drug testing for employers who need drug or alcohol testing conducted at a jobsite, hospital or other location for pre-employment, random, sweeps, reasonable suspicion or post-accident testing.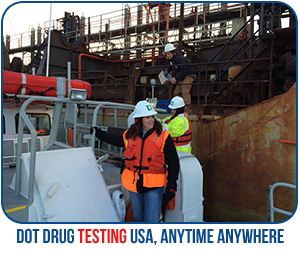 On-Site drug testing services are available nationwide and can be used for construction sites, trucking/transportation companies, DOT and NON-DOT regulated employers.
To schedule an on-site drug testing service call (800)579-8083.

Time is Money $$$$, DOT Drug Testing USA understands that sending employees to a testing center takes employees off the job and can reduce efficiency at the work site. DOT Drug Testing USA can travel to your location and conduct drug testing which will reduce the amount of time that an employee is not working.
DOT Drug Testing USA provides on-site drug testing utilizing trained and certified drug testing collection specialists that can perform DOT drug testing for FMCSA, FAA, FTA, PHMSA, FRA and USCG. In addition, DOT Drug Testing USA provides NON-DOT on-site drug testing for non-regulated employers who have a drug free workplace program implemented in the business.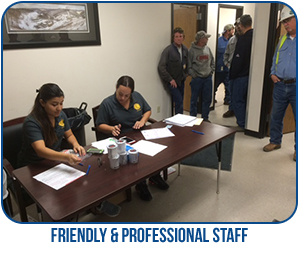 DOT Drug Testing USA provides a full range of on-site drug testing services including 5, 10 and 12 panel screens and customized drug testing for unique situations can also be scheduled.
Need a Post-Accident Drug Test? DOT Drug Testing USA can travel to a hospital/emergency room or roadside to perform a drug or alcohol test required by workers compensation insurance or a company's drug free workplace policy.
A drug test is a technical analysis of a biological specimen such as urine, hair, blood, breath, finger nail and oral fluid/saliva. The common procedure for a drug test is to have a donor provide a specimen to a drug testing collection specialist, complete a chain of custody form and then the collector will send by currier the specimen to a laboratory for analysis and a determination if the specimen is negative or positive. Although there many laboratories in the United States which provide drug testing analysis, it is recommended that only a laboratory that is SAMHSA Certified is to be used when determining a drug testing result.
A drug testing specimen which has an initial positive result will be sent for additional testing through a screening process called a confirmation test, once the confirmation test has been completed a final result will be reported.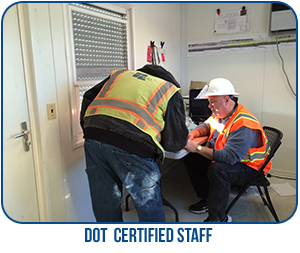 In most cases a drug test result by the laboratory will be sent to a Medical Review Officer (MRO) for review and verification and in the event that the result is positive the MRO will attempt to contact and interview the donor to determine if there is any lawful or legitimate reason why the specimen has an illegal drug or prescription drug in the donors system.
Drug testing is a valuable tool for employers who wish to maintain a drug free workplace environment and State and Federal courts have consistently upheld the rights of the employer to be a drug free workplace and take disciplinary action when an employee has a positive drug test.
DOT Drug Testing USA is ready to provide on-site drug testing services at your location, Call us Today (800)579-8083.
Become DOT Compliant Today!
DOT Drug Testing USA
(800)579-8083